April 25-28, 2007
at the George Ignatieff Theatre in Toronto
The Festival paid homage to this great Brazilian playwright bringing
a series of theatrical readings, and a discussion group, which shall
provide Torontonians with a small sample of the richness and diversity
of Brazilian culture.
April 25th
Discussion panel @ 7:30 – with David George, Professor from
Lake Forest College (Chicago), Malu Mota, Brazilian journalist from
MIX-TV (Sao Paulo), Claudia Tatinge Nascimento, Professor from Wesleyan
University (Connecticut), Suely Correa Peixoto, Brazilian Lawyer (Sao
Paulo), moderated by Helder Ramos, actor and director (Toronto) and
Guilherme Dantas (simultaneous translation).Theatrical readings @ 8p.m.
April 26th
Theatrical readings @ 8p.m. – Dorothea – It is the
story of a former prostitute who decides to seek penitence by taking
refuge in the house of three widows, her distant cousins. Her arrival
creates an uproar in a house with "no bedrooms, only living-rooms"
which leads to many surprises as the story unravels. The text is a
farce that bears a tragic theme: the struggle between the forces of
sexual instinct and its repression, and also a metaphor for the
primitive dichotomy between life (fertility) and death (sterility).
Translated by Joffre Rodrigues, Toby Coe and Flavia Carvalho. Directed
by Barbara Larose, with Toni Ellwand, Lori Hallier, Shân Gordon,
Barbara de la Fuente, Sigrid Velis, Bernadete Oliveira and Sandro
Miranda.
April 27th
The Asphalt Kiss – As a man lies dying from a hit-and-run
accident on a busy Rio street, a male stranger comes to his aid and
fulfils his dying wish for a kiss. An unscrupolous reporter, eager to
feed a scandal hungry public, witnesses his kiss and turns a simple act
of human compassion into salacious front page news. While the Good
Samaritan tries to hide from the tabloid spotlight, his entire life is
turned into a media circus, which culminates to a shocking conclusion.
Translated by Alex Ladd. Directed by Vinetta Strombergs, with Hume
Baugh, Tony Marra, Isai Rivera Blas, Robert Nolan, Barbara de la
Fuente, Sigrid Vellis, Kelly Murtha, Genevieve Oda, Roman Zaluaga and
Jamie Hunter.
April 28th
Waltz # 6 – Rio de Janeiro. A teenage girl. A piano. A
doctor. A dress. Death. Sex. In an ethereal world haunted by the melody
of Chopin's Waltz #6, a young woman is caught somewhere on the edges of
death and dreams. Translated by Joffre Rodrigues and Toby Coe. Directed
by Claudia Tatinge Nascimento, with Sara Bremen.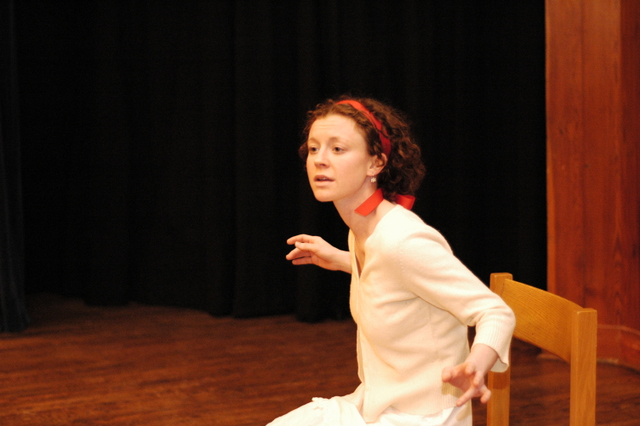 Research
Maria Eugenia Jardim
Thanks to….
the sponsors
Aldemo Garcia – Consulate General of Brazil
Arnon Melo – Melohawk Logistics Inc.
Angela Mesquita – Brasil Remittance
Clarice Michelon – CMichelon
Itamar Rodrigues – I.R. Brasil
Janaina Oliveira – Rio 40 Restaurant
Mario Cassini – Caju Restaurante
the organizers in Brazil
Cecilia Queiroz – Puente Agência de Comunicação
Fátima Ferreira – Puente Agência de Comunicação
and
Alex Ladd
Arilda de Oliveira
Guilherme Dantas
Interpreter Services – St Joseph's Hospital
Joffre Rodrigues – Nelson Rodrigues' son
Mara Vianna
Meire Santos – Brasil News
Nilson J Santos- Ponto-e-letra
Sandro Miranda
Sherry Squires – St. Christopher House Music School
Tania Zupanic
for all your help